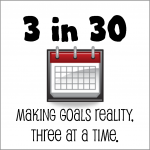 I am not a morning person. I have never been a morning person. I love staying up late and sleeping in. With that said, last week I did not get up early every day like I had hoped. This time change is also killing my early morning wake up. I am going to get it though. I know I will!!!
The sink has been free of dirty dishes for over 2 weeks now! WOO HOO!! This is a HUGE accomplishment for me. I am no fan of washing dishes but I am making myself clean the kitchen before sitting down each night. Hubby is very impressed! ;)
Reading! YES! Now, that is one that I have accomplished. I read 2 books over the weekend. I am in the middle of a series. It isn't the typical stuff I read but this has more of a Twilight(ish) feel but with different kinds of characters than vampires. Let me know if you want to know more about that and I will link you to the books.
Now, I may not be where I want to be but I am on the right track. I am praying more, cleaning more, and spending more time with my family. Not too shabby, eh?!
How are you doing with your goals?